Milnot Beach
Milnot Beach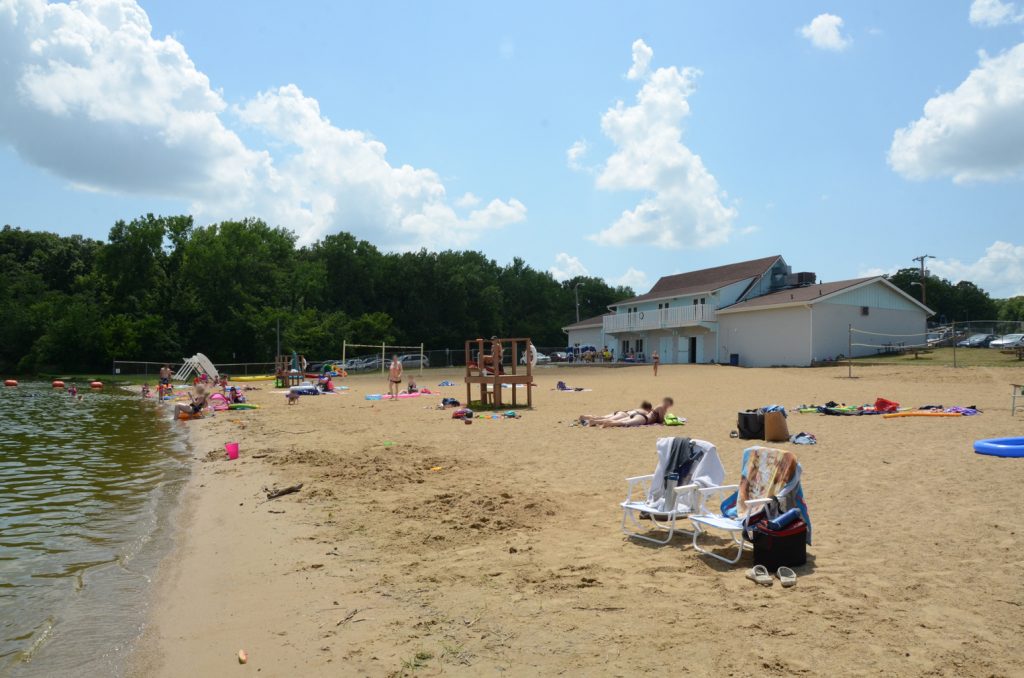 Cool off on a hot day at Milnot Beach, play a little sand volleyball, go for a swim, float on the water or just lay out a towel, relax and catch some rays on the shore.
Have a little adventure on the water and rent a Corcl, kayak, stand-up paddleboard or even a pontoon boat. If you're a little more adventurous, you can take a leap off the high-dive.
When you get hungry, grab a bite to eat at the Marina 1 snack bar, or you can bring a cooler, but there is a $5.00 cooler admission for each cooler you bring in to the facility. Just be aware that the contents of the cooler will need to be inspected by lake staff before you enter the beach area. Alcohol is not allowed at Milnot Beach, but your snacks and water sure are welcome!
An on-duty lifeguard will monitor the waters to make sure you and your family stay safe throughout your visit. Life jackets are available for purchase at Marina 1, or you can bring your own. You can also bring your rafts noodles, and floating devices to make a day of lounging around even more fun!
Of course, this is old-fashioned water-hole fun. In open water, please be careful to make safe decisions. Visitors are welcome to bring life jackets and floatation devices.
Milnot Beach begins its season each year on Memorial Day weekend. Weather permitting it is open Monday through Friday, 12-5 p.m., and Saturdays, Sundays, and holidays (Memorial Day, Labor Day, and Fourth of July), 11 a.m.-6 p.m.
Near the end of the season, it will be closed Friday, August 11 when school  begins, and will then be open only on weekends through Labor Day weekend. The last day it will be open in 2023 is Labor Day, September 4.
To contact Milnot Beach please call 217-324-4023 during normal operating hours.
If you are trying to contact in the off season, call the Lake Superintendent at 217-324-5832.
For directions, use 4932 Beach House Trail, Litchfield, IL 62056 in your GPS or scroll to the bottom of the page.
Beach Pass Prices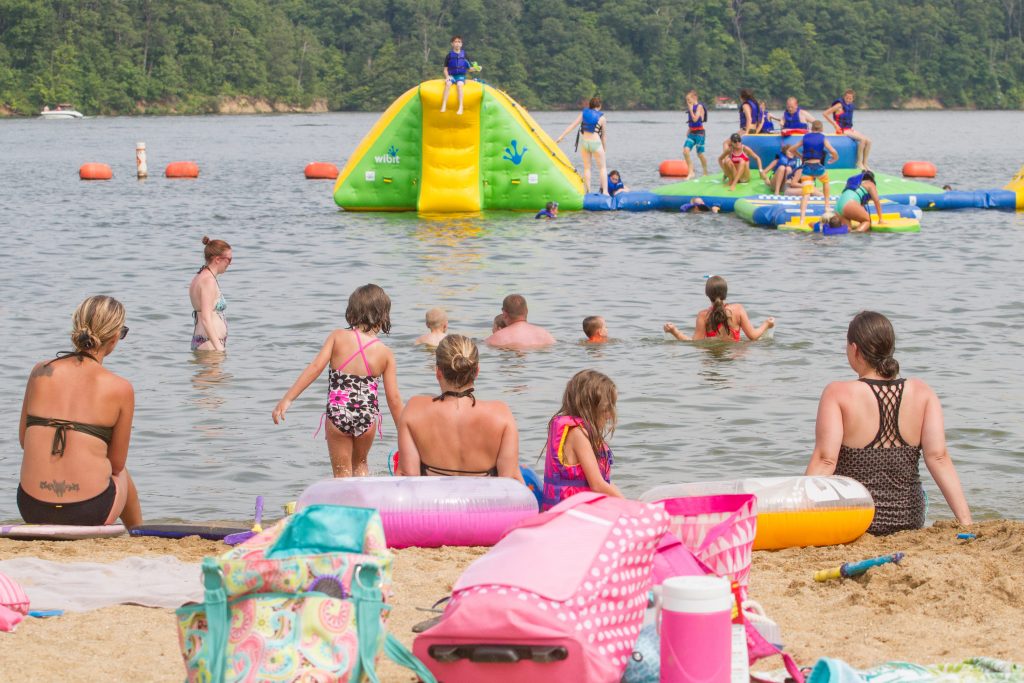 Daily Pass:
-Child (5-17): $5.00
-Adult (18+): $7.00
-Children 4 and Under: Free
-Campground reservations are granted two complementary beach admissions for the duration of reservation.
Season Pass:
-Individual Child Season Pass (5-17) $30.00
-Individual Adult Season Pass (18+) $50.00
-Family Season Pass $100.00
Items for Rent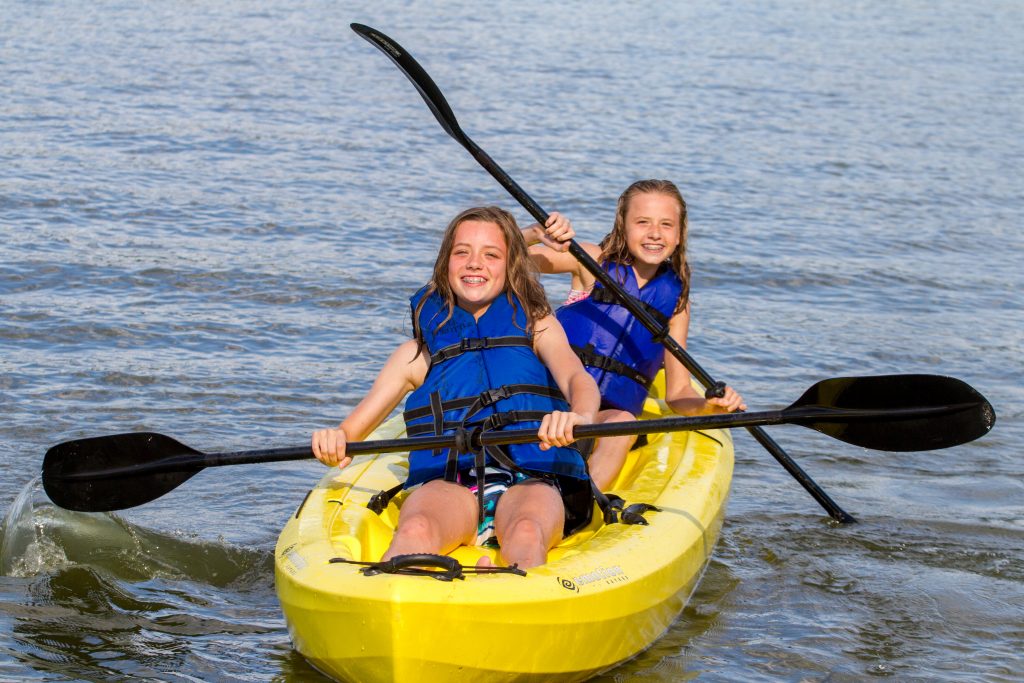 Wibit (aka Aquatic Playground) and Rope Swing: Free with paid admission
Corcls: $10/hour
Kayak (single): $15/hour
Double Kayaks: $20/hour
Stand Up Paddle Boards: $10/hour
Other items available for rent:
Pontoon: Call True Value Rental: 217-324-4000
Pet Policy
Pets are not allowed at Milnot Beach.
View of Milnot Beach
Rent a Party Room
Milnot Beach has one party room available for rent. Regardless of the time of year, have your party at Lake Lou Yaeger! To reserve your party room between Memorial Day and Labor Day, please call the Beach House at 217-324-4023 or the Lake Superintendent at 217-324-5832.
Party Room Specifications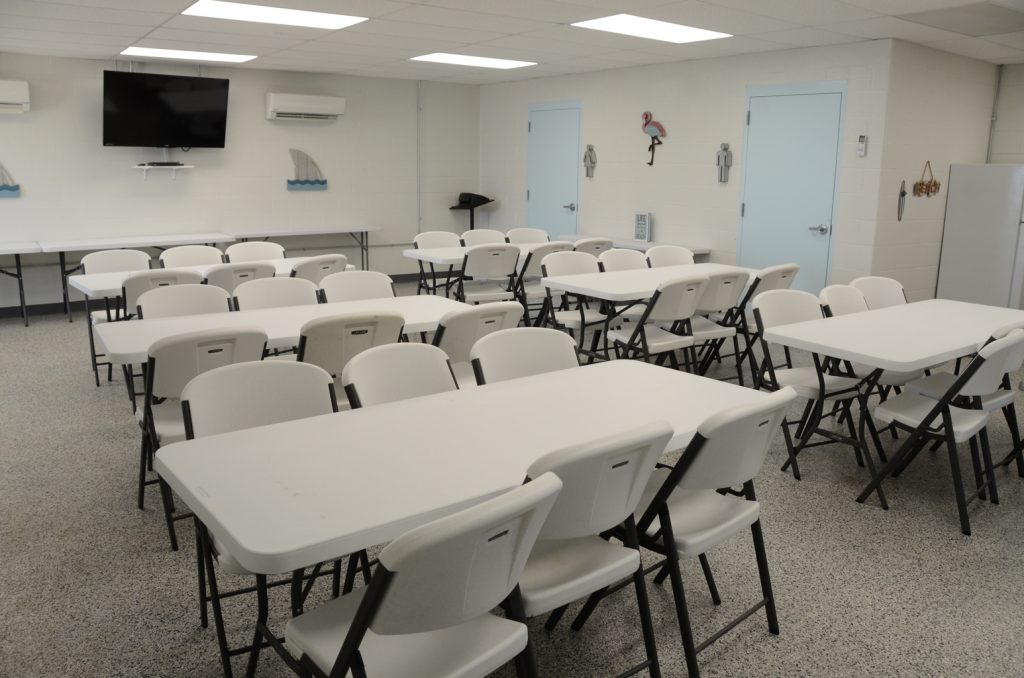 Dimensions: 761 ft2
Occupancy: 50 people with tables, 108 people with chairs only, 152 people standing only
Amenities: Fridge/Freezer, Sink, Cabinets, Counter top, 1000 watt Microwave. 55″ TV with HDMI outlets & cables, Wifi Blue-Ray DVD Player, LAN Line outlets for Internet access, (3) 6ft. Seminar Tables, (8) 6ft. Folding Tables, 50 Folding Chairs, Podium, Dimming lights, Heat and AC, and Private Restrooms.
360 view of the Meeting Room
Rental Fees:
During Business Hours:
$150-2 hours with beach admission for 20 people
$80-2 hours without beach admission
Non Business Hours:
$80 per day- 24 Hours, no swimming
$300: 2 hours, 1-200 swimmers
$340: 2 hours, 201-300 swimmers
*Reservation must be held with Credit Card & Non- Refundable $15 fee
* *No Show Forfeits $15 & Cost of Reservation
Food, Alcohol, and Additional Policies for Milnot Beach:
Visitors are welcome to bring outside food and non-alcoholic beverages into the beach house. There is a $5.00 cooler admission fee for each outside cooler that visitors want to bring in to the beach.
Alcohol is permitted in the party room during non-business hours (when the beach is not open for swimming). The Renter must have a policy of insurance and provide the City with a certificate or copy of the same showing coverage for use of the Meeting Room at Milnot Beach House. If the Renter will be selling alcohol a Special Event Liquor License may be required. Please contact the Liquor Commissioner at 217-324-5253.
The Renter will also need to sign a Rental Agreement and an Indemnity/Hold Harmless Agreement in all situations.
Getting to Milnot Beach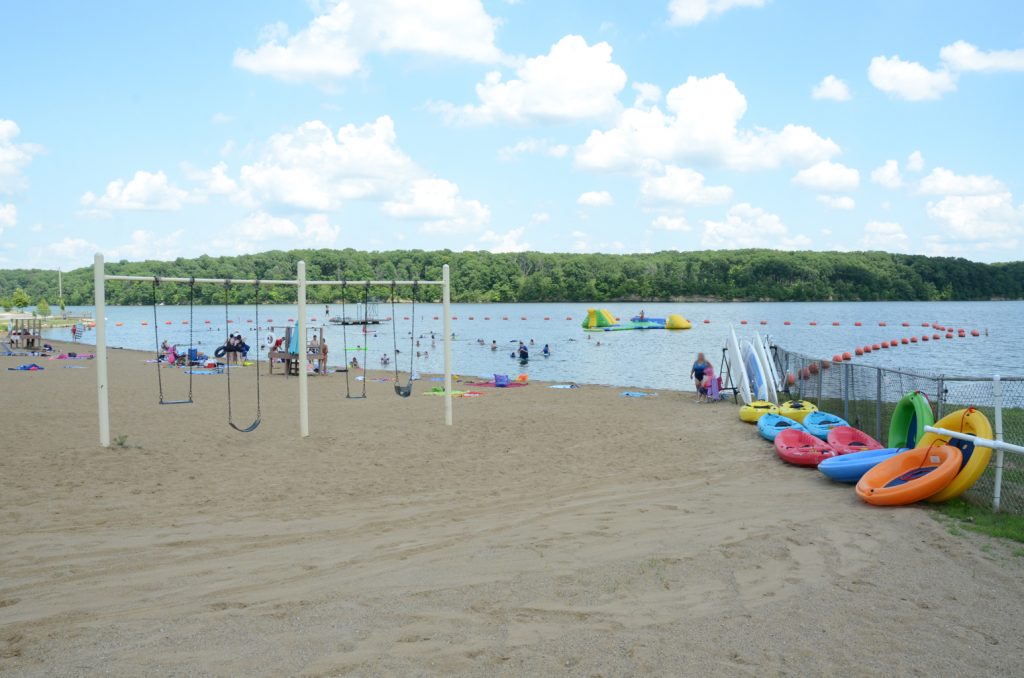 Address to Milnot Beach: 4932 Beach House Trail, Litchfield, IL 62056
Access a Google Map through the Milnot Beach business listing.
Written directions below are from Interstate 55. If you are traveling from the East on Route 16, omit step 1 and follow the direction in the parenthesis in step 2.
From I-55, take Exit 52 and head east on Route 16/Union Avenue. for 2.7 mi.
Turn left onto Yaeger Lake Trail. (A large cemetery will be on the right.) Proceed for 0.7 mi. (If you are coming from Hillsboro/the East you will be making a right and the cemetery will be on the left.)
Turn left onto Roberson Rd. (This will be immediately at the top of an "S" curve.) Proceed 0.8 mi until you hit a "T" intersection at Beach House Trail. (Please note: if you miss turning onto Roberson Road, proceed straight on Yaeger Lake Trail for approximately 3/4 of a mile and turn left onto Park Road. If you cross the dam you have gone slightly too far. Once you turn onto Park Road, proceed through the Park until you encounter a "T" intersection at Beach House Trail.)
Turn right onto Beach House Trail/County Rd 1350 N. This will dead end at Lake Lou Yaeger, Milnot Beach will be on the right (approximately 1.5 mile from Roberson Road or .4 miles from Park Road).
Need information about accessibility at Lake Lou Yaeger Recreational Area. Read more>