Camping
If you feel like "roughing it," pack up your tent, your camper or your two-door sedan and go camping at Lake Lou Yaeger.
Lake Lou Yaeger campgrounds are located along Park Road, nestled in the woods of the Lake grounds. Campgrounds are a short half-mile walk or drive from the shore and within 5 miles of other Litchfield amenities. Campgrounds are open April 1 to October 31, and fees vary depending on campground option and length of stay.
To make a reservation, please call the Campground Managers at 217-324-4771. If necessary, please leave a message with your name and number and someone will return your call. Reservations are not available online. Campgrounds accept cash, check or credit card. Credit cards can only be used on transactions larger than $15, and include a $2 service charge. A credit card is required for all cabin reservations along with a $15 non-refundable deposit. No shows will be charged a one night camping fee.
Campground Options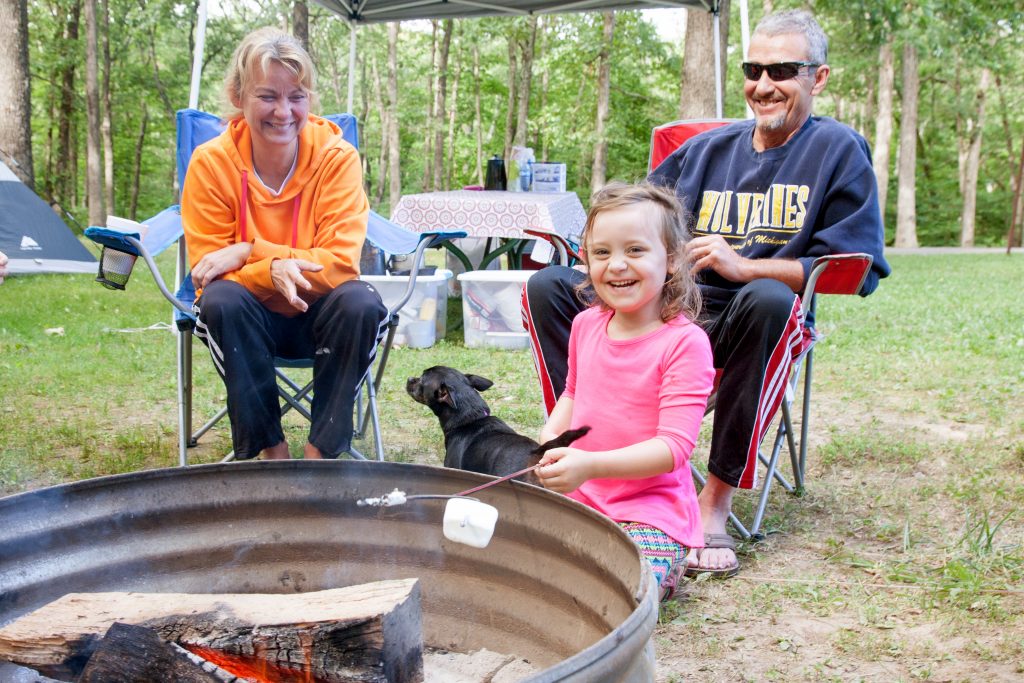 Pack up your tent and your sleeping bags and get ready to experience camping at Lake Lou Yaeger in its truest form on one of 30 Primitive campsites. The area has one shared water spigot available to campers. Visitors may use the shower house at the Bicentennial and Equestrian campgrounds. More info >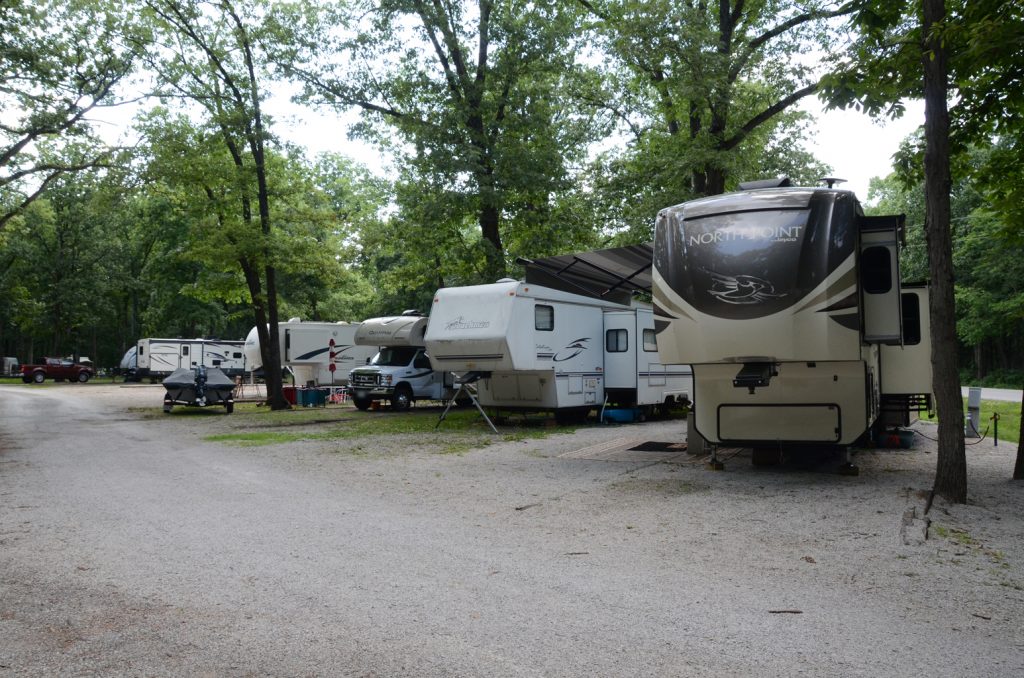 Like a little more power for your camping? Reserve one of our 17 Bicentennial/RV camping sites, complete with 30/50amp electricity, a personal water spigot for your site, and a shower house. One handicap site is available. More info >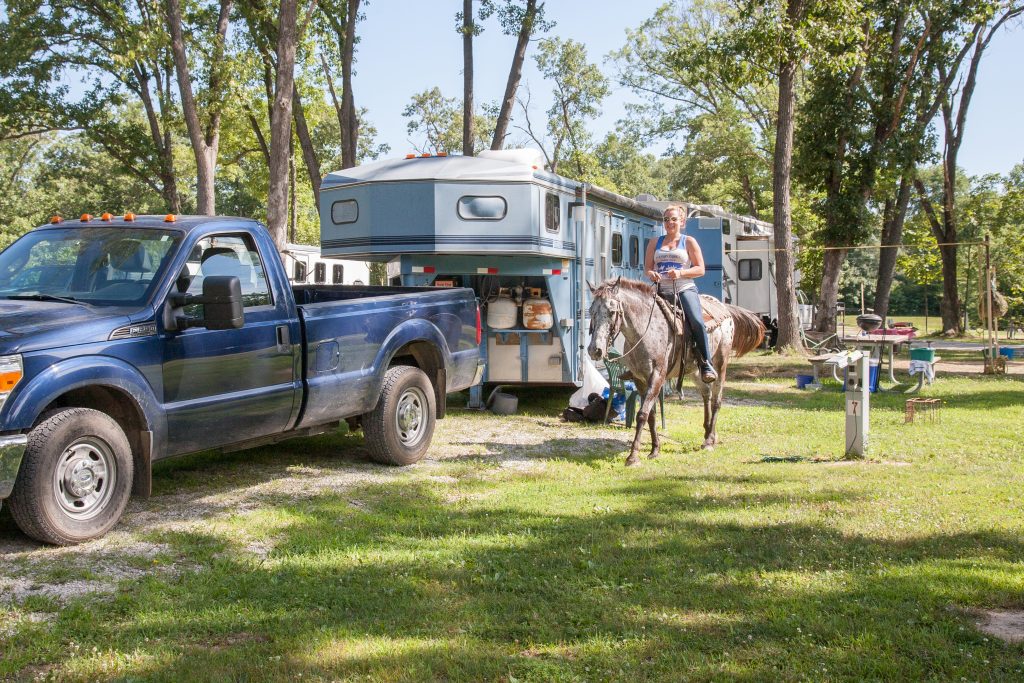 Renovated in 2015, Lake Lou Yaeger offers tent and trailer campgrounds for equestrian visitors. There are 25 Equestrian campsites available (including two handicap sites), featuring 30/50amp electricity, tie line poles, a water spigot for your site, two manure pits, and a shower house on the campground. If you do not need power or water hookups, adjacent primitive equestrian camping is available. Accessible from each Equestrian Campground is a trail head that is your entrance way to approximately 25 miles of trails. These trails traverse the woods surrounding the lake, and range from beginner to advanced. On your adventure you and your four-hoofed friend will encounter a water crossing. There are no additional fees for using the trails. Day riders are welcome and can park in the primitive campground. More info >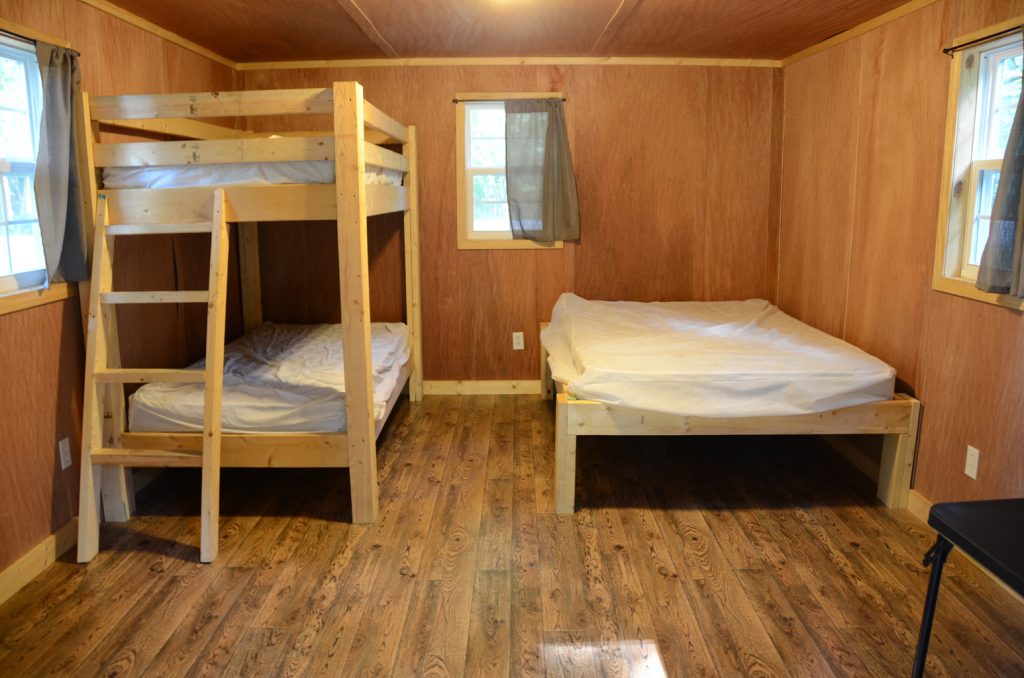 For the luxe camper, Camping Cabins are one-room cabins that sleep up to 4 with a double bed and a set of bunk beds. Every cabin offers electricity, A/C, a water spigot, picnic table, and a personal fire pit. Remember to bring your own bedding and food should be kept in coolers if needed. As a Camping Cabin visitor, you're invited to use the shower house at the Bicentennial/RV campground or the Equestrian Campground. More info >
A credit card is required to make reservations. There is a non-refundable $15 deposit and a $2 transaction fee. No-shows are charges $15 and a one night stay. If you are calling from November 1 through March 31, please call 217-324-5832.
Campground Pricing
Bicentennial

(RV)

Primitive

(Tent)

Equestrian (RV Horse Camp)
Equestrian Primitive

(Tent Horse Camp)

Camping Cabins

(Sleeps up to 4: bring your own bedding)

Daily Rate
$35.00
$20.00
$35.00
$20.00
$55.00
Holiday Rate

(2 night minimum)

$40.00
$25.00
$40.00
$25.00
$65.00
Weekly

Rate

$200.00
$100.00
$200.00
$100.00
—
Annual:**

(Apr. 1- Oct.31)

$1,000.00
—
—
—
—
Amenities
Electric (30/50amp) , Water, Dump Station, Shower House
Water Spigot Available,
Shower house access at Bicentennial or Equestrian Campground.
Electric (30/50amp), Water, Shower House, Dump Station
Shower House, Water Spigots Available
1 set of bunk beds, 1 double bed, A/C unit, small kitchen dining table, picnic table, water spigot, fire pit with grill. No Kitchen. Porta pots on site, flush toilets across the street, access to shower houses.
*Unoccupied RV storage, Off Season: ($40 Monthly), $200.00. Payment in full required up front.
**Annual Bicentennial camping requires a signed lease. View the 2022 Bicentennial Campground Lease here.>
Utilities on the Campgrounds
30/50amp are available at the Bicentennial and Equestrian Campgrounds.
Water spigots are available to each site at the Bicentennial, Equestrian, and Camping Cabins. There is one shared water spigot at the Primitive campground.
Shower houses are available at the Bicentennial, and Equestrian Campgrounds. Campers at the Camping Cabins and the Primitive Campground may use the shower house at the Bicentennial/RV or Equestrian campground.
In lieu of a sewer system, there is a dump station for campers to use located near the Campground Manager's residence.
Annual Pass Lake Lot Lease
The Lake offers annual lake lot leases for primitive campsites, including those with a lake view. Un-renewed lake lot leases are raffled off in April. To place your name in the raffle, please call 217-324-5832 by the close of business on April 1. If any lots are left unclaimed, they become available in the second week of May. Read Letter to Campers from Lake Superintendent  Annual Leaseholders must adhere to specific rules and regulations. View the 2022 Annual Lakefront Campground Lease here.>
| | |
| --- | --- |
| Resident | Nonresident |
| $250.00/Annually | $350.00/Annually |
*A one time $150 security deposit is required.
Traveling with a Boat
If you're travelling with a boat and you'd like to leave your boat in the water overnight, the Campground Manager has the ability to offer two overnight boat slips. These slips are offered on a first-come first-serve basis.
Purchasing Firewood
Firewood is available at the Campground Manager's residence for $5.00 a bundle.
Dog Policy
Like any great camping experience, you're encouraged to bring your furry friends along for the fun. Per city ordinance, dogs must remain leashed at all time, and for the safety of horse-back riders, dogs are prohibited on horse trails or in the cabins.
Need information about accessibility at Lake Lou Yaeger Recreational Area. Read more>