Lake Residents
Do you love lake life? Have you ever thought about moving to Litchfield? Now may be your chance to make your dreams come true!

Subdivisions
There are a few areas of Lake Lou Yaeger Recreational Area that are occupied by residential homes. The Lake contains three existing subdivisions:
Arrowhead, West Lake, and Solar Circle. For those interested in purchasing a home in one of these subdivisions, we encourage you to contact one of Litchfield's local realtors.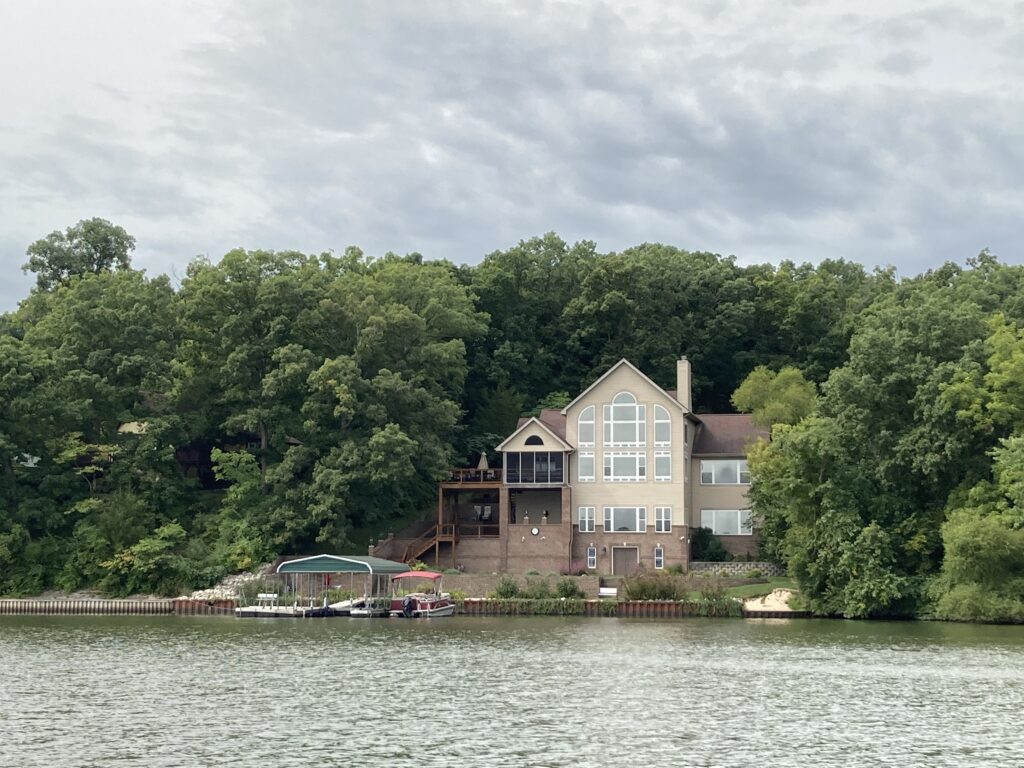 New Development – Eagle Ridge Subdivision
Eagle Ridge subdivision is a new development on Lake Lou Yaeger. This area contains 41 lots available for residential development. Those interested in this subdivision can contact the City of Litchfield at 217-324-8151 or learn more about Eagle Ridge subdivision in this brochure.>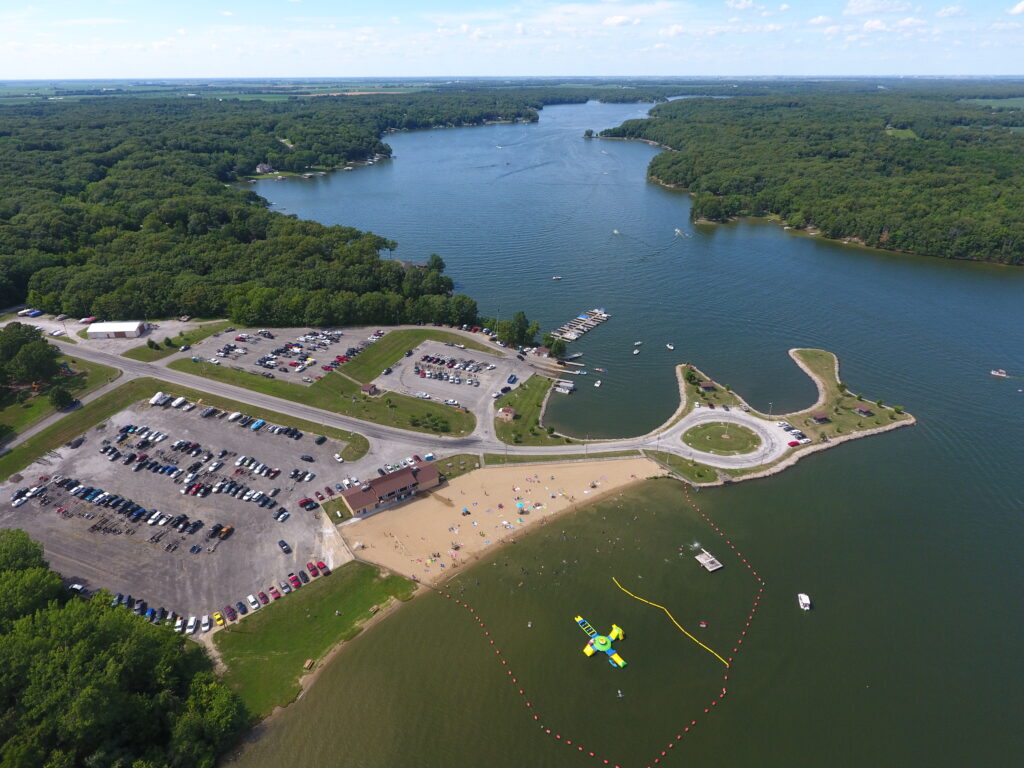 Assistance for Current Residents
We find that many residents have similar questions and we are here to help. We made this list of frequently asked questions and their answers in hopes to help better assist you! If you have further questions, please contact the Lake Superintendent at 217-324-5832. Have a Yaeger day!
How do I request approval for a tree to be removed? Please complete the Tree Removal Request Form for Lake Properties>.
Can I build a dock on my Leased Lakefront Lot? Residents are encouraged to study their lake lease closely for details pertaining to their leased lot. Some residents have constructed docks on the public waters of this municipally owned lake. Thing to consider are that the City lowers the lake level in the winter and also the lake level may rise significantly during flooding events during periods of excessive rainfall. Always check in with the City Building Inspector before constructing any permanent structures on your lot.
Is the City responsible for damage that occurs to my dock? The City is not responsible for your dock. Docks have suffered damage in the past from lake level changes, ice, debris, and members of the public. It is your responsibility to monitor your dock for potential threats. It is highly recommended that you make sure your dock is designed appropriately to prevent damage from occurring. Residents should employ the best management practices recommended by their dock manufacturer.
Who is responsible for my shoreline? Residential Lakefront Leaseholders are responsible to maintain and protect the shoreline for their leased lot. Some Rip Rap rock is available from the Lake Superintendent for use as shoreline protection. Large projects will require the Leaseholder to use a Contractor.
How do I get rip-rap for shoreline protection? Please contact the Lake Superintendent at 217-324-5832 to make arrangements.
Can I remove trees and brush from my leased lot? Trees less than 3-inches in diameter, evergreen trees, trees planted by the lake leaseholder as landscaping, and invasive trees like Bradford Pears and Locust trees may be removed without permission. Trees that are larger than 3-inches in diameter, both live and dead, require permission from the City for removal. A Tree Removal Request Form for Lake Properties should be completed and submitted to the Mayor's Office or Lake Superintendent's Office to seek permission for the removal. Removing native trees without permission is illegal.
Where can I find the Tree Removal Request Form for Lake Properties? Tree Removal Request Form for Lake Properties>.
How can I dispose of yard waste? The City of Litchfield has a brush pile for yard waste disposal located at the lake. Look for the sign at the entrance of the lane just West of the dam on Yaeger Lake Trail. Burning is also allowed during daylight hours if you call and receive permission from the Litchfield Fire Department (Fire Department Non-emergency line: 217-324-5991).
Are Off Highway Vehicles (OHV's) permitted for use on public roadways? OHV's such as Side-by-Sides, 4-wheelers, Golfcarts, UTV's, and similar unregistered vehicles are not permitted for use on the public roadways.
Are the public dumpsters in the Lake Lou Yaeger Recreational Area for disposal of my residential trash? No. The public dumpsters provided in the Lake Lou Yaeger Recreational Area are not to be used for disposal of residential trash. If you own a residence at Lake Lou Yaeger, it is your responsibility to secure a waste disposal service for your residential trash. This is the case even if you only use the residence as a vacation home.
Can I purchase a Daily Permit for my watercraft? No. Lake residents that use boats, jet skis, kayaks, SUP's, and any other watercraft on Lake Lou Yaeger are required by Ordinance to purchase Annual Lake Permits for their watercraft. This applies to any watercraft stored on Lake Lou Yaeger and on the marginal land surrounding Lake Lou Yaeger, which includes your leased lakefront lot. You can find information about boat passes here.>
Do I have to register my boat with the State of Illinois? Watercraft that are required to be registered according to Illinois State Laws must satisfy the current registration requirements. Watercraft registered with States other than Illinois are permitted for use on the lake as long as they display current registration credentials as required.
Can I use raw water from the lake to irrigate my lawn or for other purposes? Residents may use a pump system to draw raw water from the lake only after they have paid the annual raw water usage fee to the City Clerks Office and have a receipt to verify the purchase. As of 2021, the annual fee is $100.00 for the year. This rate may be increased by the City annually.
Can I purchase gasoline at the lake for my boat? Yes, the Marina 1 store offers gasoline, oil, and other goods for purchase between March 1st and October 31st everyday except Tuesday from 8:00am until 4:00pm during the week and until 5:00pm on weekends and holidays.
Is there a volunteer group associated with the lake that I can join?

Friends Of Lake Lou Yaeger, commonly known as FOLLY, is a group that takes annual membership dues and uses those dues and member volunteer labor to complete projects around Lake Lou Yaeger they organize as a group.
The Shoal Creek Conservation Area Volunteers are a group that concentrates on restoring and preserving the natural landscape of the Shoal Creek Conservation Area.
The Litchfield Area Mountain Bike Organization, commonly referred to as LAMBO, is an unofficial group of mountain bike enthusiasts who have volunteered many manhours to design, build, and maintain the Rt. 66 Mountain Biking and Hiking Trail located within the main park of the Lake Lou Yaeger Recreational Area.

These groups can be located on Facebook or through the Litchfield Lake Superintendent's Office.

How do I report a problem? To report a problem please contact the Lake Superintendent at 217-324-5832 or e-mail elamb@cityoflitchfieldil.com.