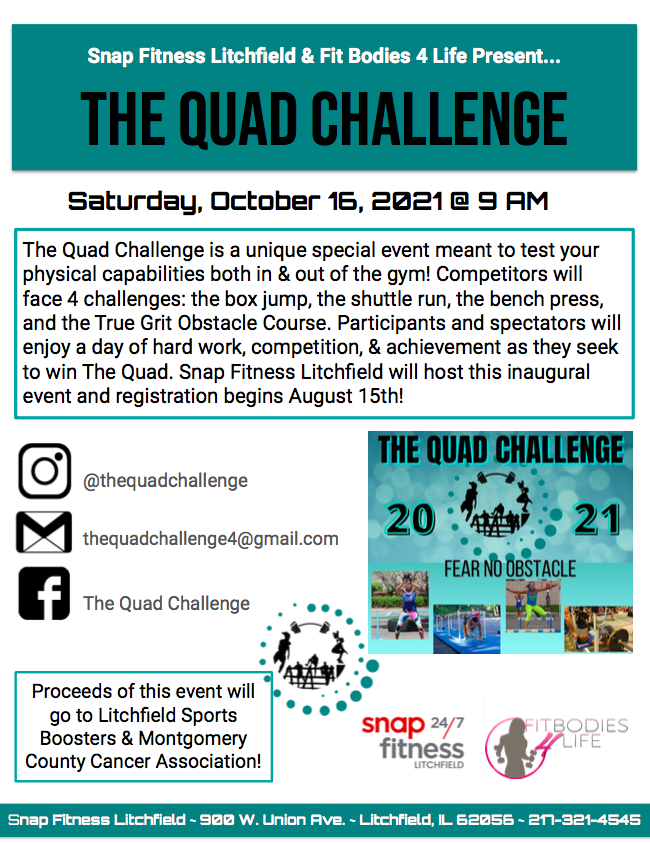 Oct 16
The Quad Challenge
The Quad Challenge is a unique special event meant to test your physical capabilities both in & out of the gym! Hosted by Snap Fitness of Litchfield, participants and spectators will enjoy a day of hard work, competition & achievement as they seek to win The Quad.
Competitors will face 4 challenges:
The Box Jump
The Shuttle Run
The Bench Press
The True Grit Obstacle Course
Registration begins August 15th!
Come out & support a good cause while proving your True Grit!
This event is presented by Snap Fitness Litchfield and Fit Bodies for Life. Proceeds will go to Montgomery County Cancer Association and Litchfield Sports Boosters!
Follow us on FB
Email us: thequadchallenge4@gmail.com
Follow us on Instagram: @thequadchallenge
Date/Time
Oct 16, 2021
9:00 am - 1:00 pm
Location
900 W. Union Ave
Litchfield, IL 62056
Get Directions
Cost
$60
Need more information
Email: thequadchallenge4@gmail.com
Phone: 217-321-4545
Website: https://fitbodies4life.securechkout.com/the-quad-challenge?fbclid=IwAR1MceBxtNQRpj_tGKxt9kpHHizAH-NOYvdk0ccwf4t3niIS79fdr0_SaUE
Share with your friends