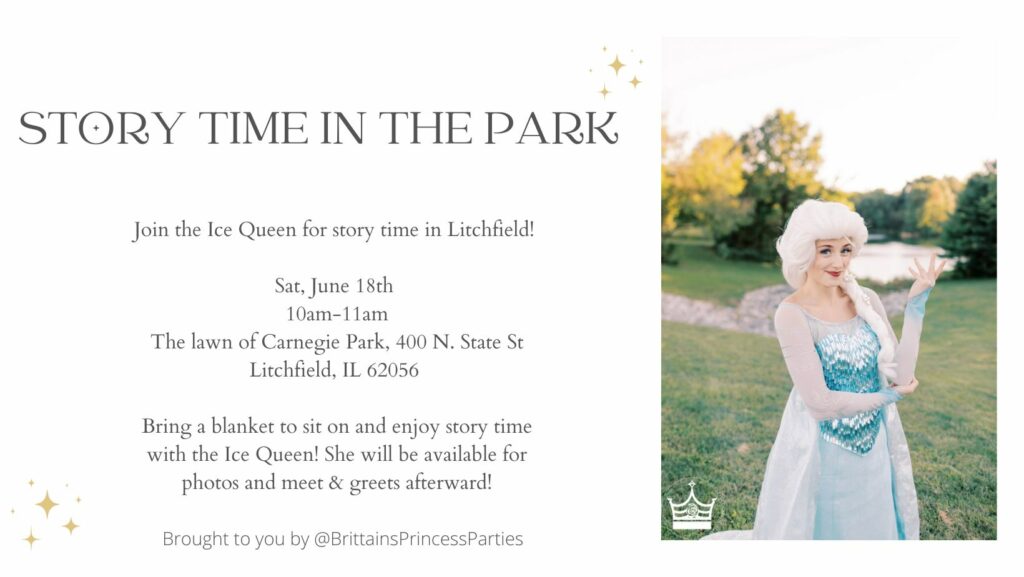 Jun 18
Story Time in the Park
Join the Ice Queen in Library Park for Story Time on June 18th from 10 am to 11 am!
Story Time in the Park in Litchfield on Sat, June 18th 10:00am-11:00am on the lawn of Carnegie, located at 400 N. State St Litchfield, IL 62056. Bring a blanket to sit on and enjoy story time with the Ice Queen! She will be available for photos and meet & greets afterward!
In case of bad weather, this event will be moved indoors to the new Litchfield Library. Each month this summer, a new character will host story time in Litchfield! So be on the lookout for more events like these!
Date/Time
Jun 18, 2022
10:00 am - 11:00 am
Location
400 North State Street
Litchfield, IL 62056
Get Directions
Cost
free
Need more information
Email: anon@cityoflitchfieldil.com
Phone: 217-324-8147
Website: https://l.facebook.com/l.php?u=https%3A%2F%2Ffb.me%2Fe%2F2uf6gZh24&h=AT3U8OhPSVc6oFOI2_fq03lo0vy-7lDmAYeWk3WkOV_L52YE5QGB9YrNIpsFSONh3-0UETZetppodyaHfeQyg7z7DezcQyuJfrINxpt5mLC5F7G88JYb9CLrByuL8UPq9bdJ
Share with your friends