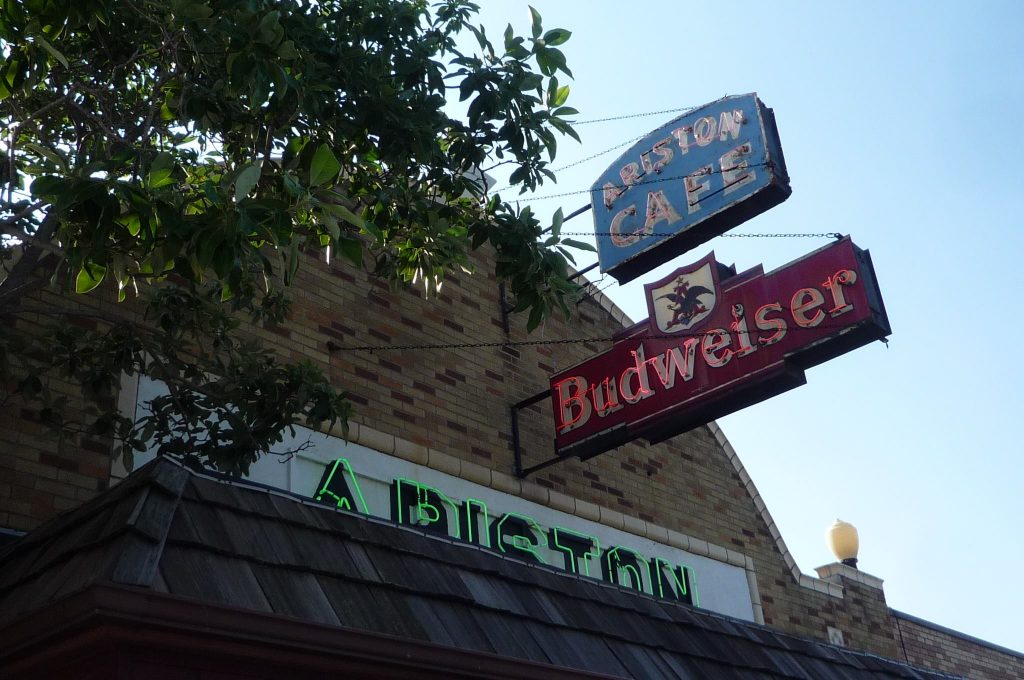 May 04
Relighting Celebration: Ariston Café Neon Sign
The antique Ariston Cafe/Budweiser neons are coming down in January to be restored and replaced. They will be re-lit May 4th. Should be a great Route 66 party…plus not to mention a great time to celebrate the Ariston's/Adam's 95th Café Anniversary(7/5/1924).
A relighting of the vintage neon signs and window accents at the Ariston Cafe in Litchfield, IL is scheduled to take place on Saturday evening, May 4, 2019.
Everyone is cordially invited to attend this special event to celebrate the restoration of these historic neon vestiges at this classic restaurant along Route 66 in south central Illinois.
Since 2008, a relighting ceremony of one of our classic Route 66 neon signs or scenes has become an annual event for the Missouri 66 Association – this year jointly with the Illinois 66 Association. With each subsequent year, these relighting events grow in interest and attendance as we support the preservation of these wonderful examples of commercial art along America's Main Street.
The Ariston Cafe is located at 413 N. Old Route 66. Pete Adam originally opened the Cafe on "temporary 66" in Carlinville in 1924, moved to a leased building in Litchfield in 1929, and then built the current cafe in 1935 – all of them on Route 66. In 1966 Pete turned over the business to his son Nick, and his wife Demi, and they continued to operate this popular eatery on the Mother Road for 50+ years before retiring last year.
The relighting (throwing of the switch!) will take place near dusk…estimated to be around 8:15pm or so (perhaps a bit sooner if it should be an overcast day). However, you may want to plan to arrive somewhat earlier, in order not to miss the ceremony leading up to the actual relighting of the neon. Appetizers and light refreshments will be available about an hour before the relighting time.
Current owners Will & Michele Law and Marty & Kara Steffens, who are carrying on the heritage of the Ariston, welcome all who are interested to attend this event, as do Nick & Demi Adam who will also be in attendance. There will be several speakers that evening, including representatives from the local community, as well as commemorative t-shirts, music and vintage cars on site.
Arrangements are being made with the City of Litchfield to provide traffic control on Old Route 66 in front of the Ariston, and additional parking will be available on several lots in the immediate area.
Please join us this special Saturday evening in May to welcome back these historic Route 66 neon restorations at this legendary icon on the Mother Road. Hope to see you at the party!
Date/Time
May 4, 2019
6:00 pm - 9:00 pm
Location
413 Old Rt 66 North
Litchfield, IL 62056
Get Directions
Cost
Free outside event
Need more information
Email: wlaw.ariston@gmail.com
Phone: 2173242023
Website:
Share with your friends