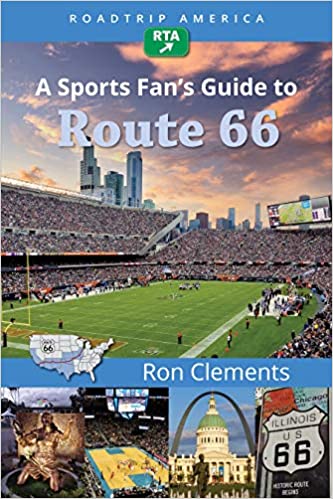 Nov 06
Meet Ron Clements, Author of RoadTrip America: A Sports Fan's Guide to Route 66!
On November 6th, Ron Clements will be talking about Route 66 Sports History at the Litchfield Museum and Route 66 Welcome Center from 10 am to 2:00 pm!
Immortalized in countless books, songs, and movies, Route 66 is a timeless icon of American culture. Until now, however, no guide to this historic byway has focused on another beloved part of American culture: sports. That all changes with RoadTrip America: A Sports Fan's Guide to Route 66. In this groundbreaking new book, sports writer and lifelong sports fan Ron Clements goes beyond nostalgic buildings and classic cars to highlight historic sports venues, storied sports professionals, and current sports events along the Mother Road.
Rolling east from Chicago to Santa Monica, the author shares inside information about the NFL, NBA, NHL, and MLB teams based in the cities and towns along Route 66. In addition, enjoy anecdotes gathered from auto and horse racing tracks, rodeo arenas, golf links, and the magnificent lineup of high school and collegiate sports programs to check out along the way.
Ron Clements is a Wisconsin native and Green Bay Packers fan who married a Chicago Bears fan from Peoria, Illinois. Despite the rivalry, Ron and Patti make it work and have been living fulltime in an RV since March, 2018. They travel the country in search of new adventures and love attending baseball games and exploring national parks. They visited all 30 MLB stadiums in 2018 and have taken their RV to each of the lower 48 states. Ron is a veteran journalist of more than two decades and a summa cum laude graduate of East Carolina University, which he attended following his service in the United States Marine Corps. Ron has written for USA Today, Sporting News, CBS Sports, the Pittsburgh Post-Gazette, Omaha World Herald, The Philadelphia Inquirer, The Fresno Bee, the Montgomery Advertiser, and many other media outlets. Ron and Patti have two adult sons, RJ and David, and a four-legged travel companion named Maverick. While Ron's home base is in Florida, he is on the road in his RV twelve months a year.
Date/Time
Nov 6, 2021
10:00 am - 2:00 pm
Location
334 Historic Old Route 66 North
Litchfield, IL 62056
Get Directions
Cost
$0
Need more information
Email: emily.sordo@smithpublicity.com
Phone: (217) 324-3510
Website: http://www.litchfieldmuseum.org
Share with your friends