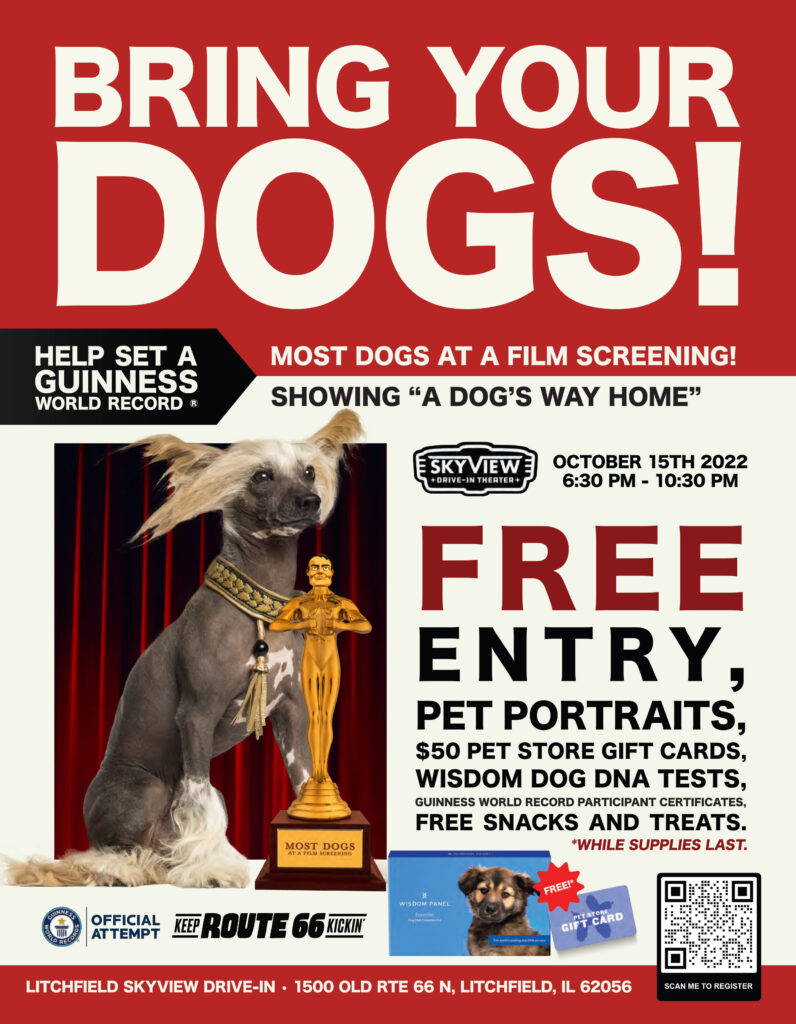 Oct 15
Keep 66 Kickin' Guinness Book Dog Event
Join us as we attempt to break the Guinness Book world record for dogs at a show!
Tons of freebies for everyone so please register ahead and come early!
Each pup will need a human, and extra humans are always welcome too!
Animal Medical Center will have a table and a fantastic give away as well!
Judging will start about 7 during our 10 minute intermission clock, so come as early as possible! Our movie, "A Dog's Way Home" will start at 7:30!
Click the link or hover over the QR code with y9our phone camera to pre-register your puppies!!
Date/Time
Oct 15, 2022
6:00 pm - 9:30 pm
Location
1500 Old Rte 66 N
Litchfield, IL 62056
Get Directions
Cost
Free
Need more information
Email: minndora@gmail.com
Phone: 2176661929
Website: https://l.facebook.com/l.php?u=https%3A%2F%2Fqr1.be%2F25GE%3Ffbclid%3DIwAR2xC9AQR3-fjYqOIoYLpRmu4uiJ48jmMBZ1yK3-rG4tTA30uXZm4IecUos&h=AT0X8lNcDRHHy7Pl7b8kz62md2-SDQGenhb5Cwz8m5oA4-zVdlMFG-p3eHb4_RqNkUZgnfR_77qF2gicsIetqo-qVU2E46E1aTHSBXoU6bZDDlklotR2DQZ_4p4DXn6cCTqyClM&__tn__=-UK-R&c%5B0%5D=AT2vnLLs__wV23xaukXXA6UlzkUYqnmU7R0a6UZ7zw7Vs66cyowlBNmsB9AJX2aQ-ObkpTcp6di9gVAU1bdjhBUQ0HC7gByHuE1YR6tTAJQRHo-4MJh-RoFwylrP7flQ46AOl4bvvhFsMm6FwJP_jur4cNh4knChtkpg3a6UDmkt6jCME9Y2gGg2Hiaff1aroDxbklAnQ9w_b-gmn08onrw1zafEawxRByxICg
Share with your friends