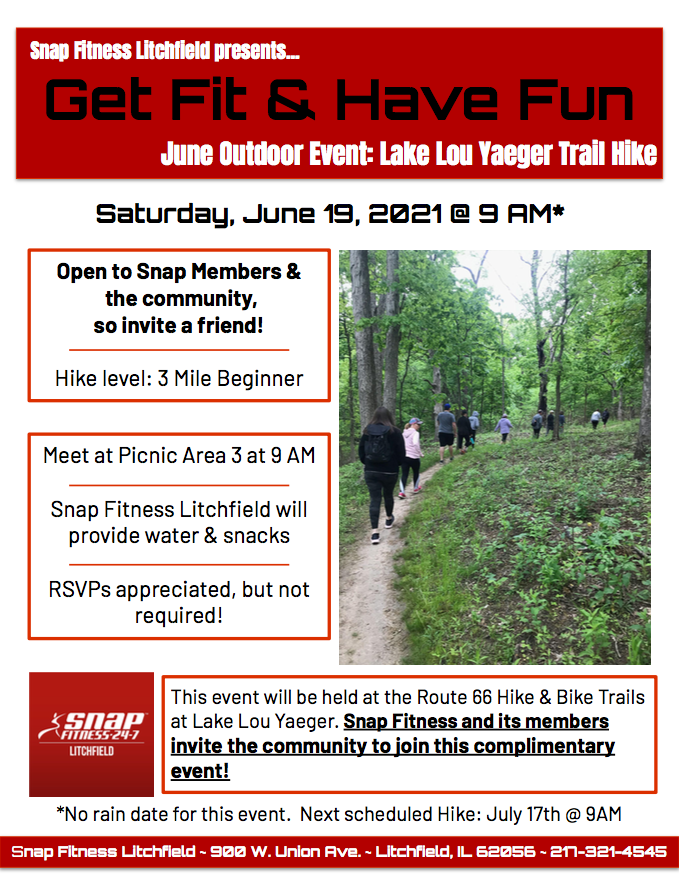 Jun 19
Get Fit & Have Fun – Community Trail Hike
Snap Fitness Litchfield is hosting 2 free events in June! This trail hike is is open to the community, so no snap membership is needed!
If you haven't yet had a chance to check out the beautiful trails at the lake, this is your opportunity! This event will be held at the Route 66 Hike & Bike Trails at Lake Lou Yaeger. Snap Fitness and its members invite the community to join this complimentary event!
This hike will be a 3 mile beginner level hike! We promise, it is suitable for all skill types! Each trail has multiple exit points, so you can always head back to the Picnic Area if you've had enough!
Meet at Picnic Area 3 at 9 AM on Saturday, June 19. These are located across from the camping cabins & and between Marinas 1 and 2. There is a pavilion marked Picnic Area 3!
Snap Fitness Litchfield will provide snacks & water!
RSVPs welcome, but not necessary!
This is a FREE event!
We can't wait to see you there!
https://www.facebook.com/events/188129916423178?ref=newsfeed
Date/Time
Jun 19, 2021
9:00 am - 10:30 am
Location
3 Primitive Lane
Litchfield, IL 62056
Get Directions
Cost
Free
Need more information
Email: litchfieldil@snapfitness.com
Phone: 217-321-4545
Website: https://www.facebook.com/events/188129916423178?ref=newsfeed
Share with your friends