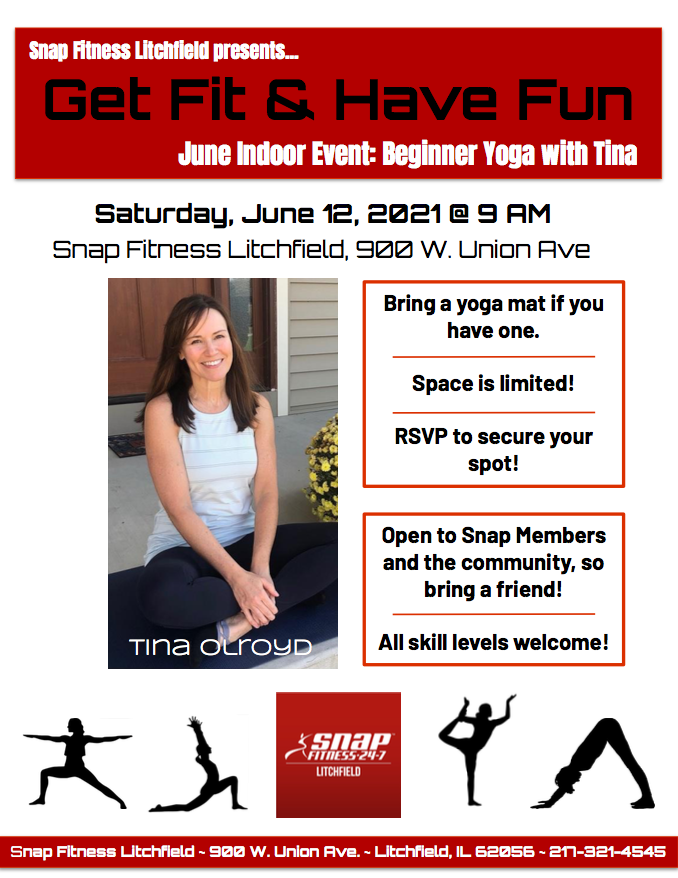 Jun 12
Get Fit & Have Fun – Beginner Yoga
Snap Fitness Litchfield is hosting 2 free events in June! Join us on for this free community yoga class! No snap membership is needed to attend!
Whether you have zero yoga experience, or as much as our certified instructor Tina Olroyd, we'd love for you to join us on Saturday, June 12 for this FREE event!
Yoga allows you to move your body in dynamic positions all while focusing on synchronizing your breathing with your body's movements. Yoga is a great way to reset, relax, & regenerate!
Bring a yoga mat if you have one!
RSVP to secure your spot as space is limited! You can RSVP by messaging us here on Facebook, signing up on the sheet at Snap, or calling us at 217-321-4545.
This is a complimentary event open to Snap Members & the community — so bring a friend!
Date/Time
Jun 12, 2021
9:00 am - 10:30 am
Location
900 W. Union Ave
Litchfield, IL 62056
Get Directions
Cost
Free
Need more information
Email: litchfieldil@snapfitness.com
Phone: 217-321-4545
Website: https://www.facebook.com/events/4482540688496507/
Share with your friends