Camping Cabins: Lake Lou Yaeger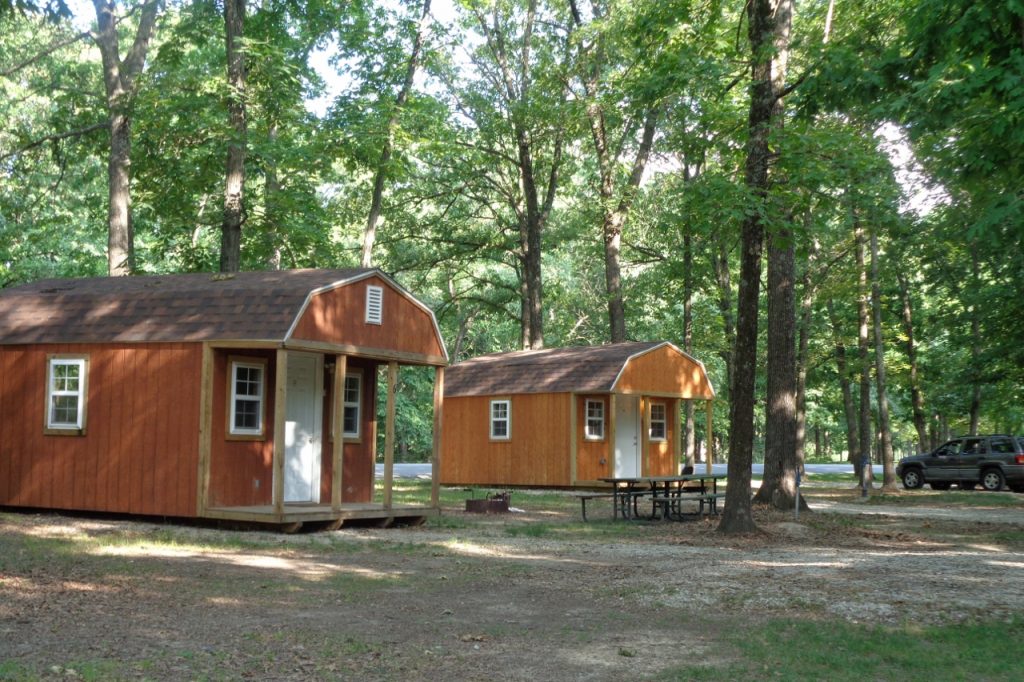 If you would like to spend a weekend outdoors, but do not want to sleep in a tent or you do not have an RV, cabin camping at Lake Lou Yaeger in Litchfield, IL is the solution for you! Nestled along Park Road at Lake Lou Yaeger, a series of small cabins have been constructed. These cabins are considered Camping Cabins. All are furnished with a full size mattress and one set of twin bunk beds. You must provide your own bedding. All cabins have electricity and air conditioning, a small table inside, an outdoor fire pit with grill top, picnic table, and water hydrant. Porta pots are on location, flush toilets are across the street at the playground and campers have access to the shower house at the Bicentennial/RV Campground or the Equestrian Campground. Dogs and horses are not allowed in the cabins.
Considering Camping? Learn more about camping at Lake Lou Yaeger >
Cabin Camping Supplies
Wondering what you should bring to Lake Lou Yaeger when you stay at one of the Camping Cabins? To make your trip easier, here is a list of suggested items to bring with you on your trip. Do not panic if you forget something, there is a 24 hour Wal-Mart only a 7 minute drive away.
Remember to:
-Gather directions
-Check weather forecast
Essential Gear:
-Bedding (sheets, blankets, pillows/cases, sleeping bags)
-Food & beverages (including water bottles)
-Ice chest and ice (additional ice available to purchase from Marina 1)
-Cooking & eating utensils
-Personal toiletries
-Towels
-Insect repellent
-Sun screen
-Flashlight and batteries
-Lighter/matches/fire starters (do not bring your own firewood, it is available for a small fee from our campground managers-the campground manager can be reached at 217-324-4771).
-First aid kit
Recommended/Optional Gear
-Folding lawn chairs
-Car adapter for charging items
-Trash bags
-Bucket
-Rope
-Walking/hiking shoes
-Rain gear (if applicable)
-Fishing gear (fishing license required to fish, may be purchased locally at Wal-Mart, Rural King, UJ's, or Denny's Bait and Tackle Shop)
-Swimming gear (swimsuit, towel, beach sheet, sand toys, sunscreen, water shoes, noodles/floaties, sunglasses, etc.)
-Binoculars
-Sunglasses
-Shower Shoes/Flip flops
-Backpack
-Camera for capturing your moments
Happy Camping!
Considering Camping? Learn more about camping at Lake Lou Yaeger >
Address: 3 Primitive Drive, Litchfield, Illinois 62056
Phone: 217-324-4771